Getting Married in 2019 / 2020 ?
Wedding DVD News from Castle Durrow Hotel, Co. Laois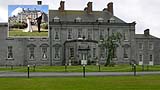 Felicity & Patrick were married at the fabulous venue of Castle Durrow, located in the village of Durrow, Co. Laois, which provided us with ideal video and photography locations in its extensive landscaped grounds.
Castle Durrow has everything to make your special day unforgettable. Enjoy the manicured gardens, the enclosed courtyard and the radiant backdrop of the Estate, the magnificent rooms and staircase, which all provide the ideal setting for your wedding pictures.
Other Wedding Video Stories from Castle Durrow Hotel, Durrow, Co. Laois